DONKEY BOP RACING TEAM DRIVER
MILT MINTER, JR.
September 7, 2020; Kris Thompson
(Fresno, California)
When you mention Milt Minter, Jr.'s name, the first thought that comes to mind is a rich family history of real world and virtual world motor racing.
Milt is the child and namesake of his father, the legendary driver Milt Minter, who was active as a driver for 50 years. His father, who passed away in 2004, had an amazing driving record, including the following highlights just to name few:
Awarded the Porsche factory "Most aggressive driver award" for the season in 1973 by the niece of Ferdinand Porsche
First driver from an independent team to win a Trans-Am series race
Trans-Am season champion, and multiple Trans-Am race wins·
Eight-time competitor in the Rolex 24 hours of Daytona and three-time competitor in the Rolex 24 hours of Le Mans
4 wins in IMSA including the 1974 IMSA race at Laguna Seca, and a second at the IMSA Sebring race in 1973
Drove for many years in GT classes in IMSA, Can-Am, and Trans-Am races, including racing on a team with Paul Newman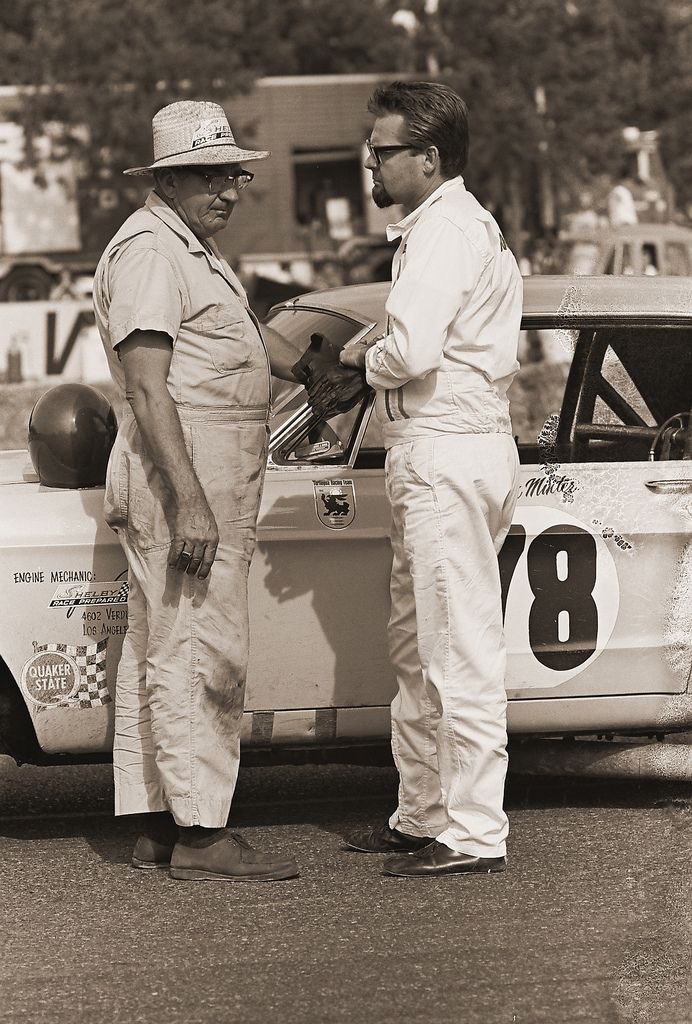 As a child and teen growing up, Milt Minter Jr. accompanied his father to many of these races. It was extremely tough on families to start in racing in the 1960s.
"I remember my Dad and Mom driving us cross country to the East Coast in a van to a race," said Milt. "Dad had a deal to drive for a car owner who was unable to drive his own car. We didn't have much money for hotels, so Mom and Dad drove through the night switching off every few hours. Things didn't go well at the race and Dad damaged the car a little trying to move another car out of the way. The owner refused to pay Dad anything. We didn't have enough money for food for the travel back, and we only had a few apples and oranges that Mom had saved. Mom called her father, who believed in my Dad, and sent us $200 by Western Union, so we could get back home."
His father moved the family to Simi Valley, on the outskirts of Los Angeles. That was the center of the universe for racing on the West Coast. Milt and his family were right in the middle of many of the events depicted in the recent megahit movie Ford v. Ferrari.
"Mom, who was 82, called me minutes after she saw the movie. She had tears in her eyes as it brought back so many memories. They knew Ken Miles and Carroll Shelby. Those two were tough on local race teams. They would always fly Ken in for race, he would win it in a very good car, and then Ken would fly back out. You have to hand it to them, they were all about winning and put together the support to do it."
It had to be tough at times to be a child watching your father drive time and time again in these hardcore races during the 70's and 80's when so many drivers were being injured or killed.
"I remember one race at Laguna Seca. I was watching from the top of a camper and toward the end of the race Dad had a fire in his engine compartment. Radios didn't work so well back then, so Dad had no idea. He felt the engine losing performance and so he switched over to a second fuel pump, which kept feeding the fire. Then he started losing gears. But he was not going to stop. I saw Dad coming over the corkscrew and heading through the final turns trying to work his gears, with fire coming out of the car. He crossed the start finish and pulled over and a ball of fire engulfed his whole car. I went running over to him scared about what I might find. But there he was, already sipping on a cold beer, as if nothing had happened."
Milt cherishes those days and his Mom and Dad. He's still so proud of his father's racing.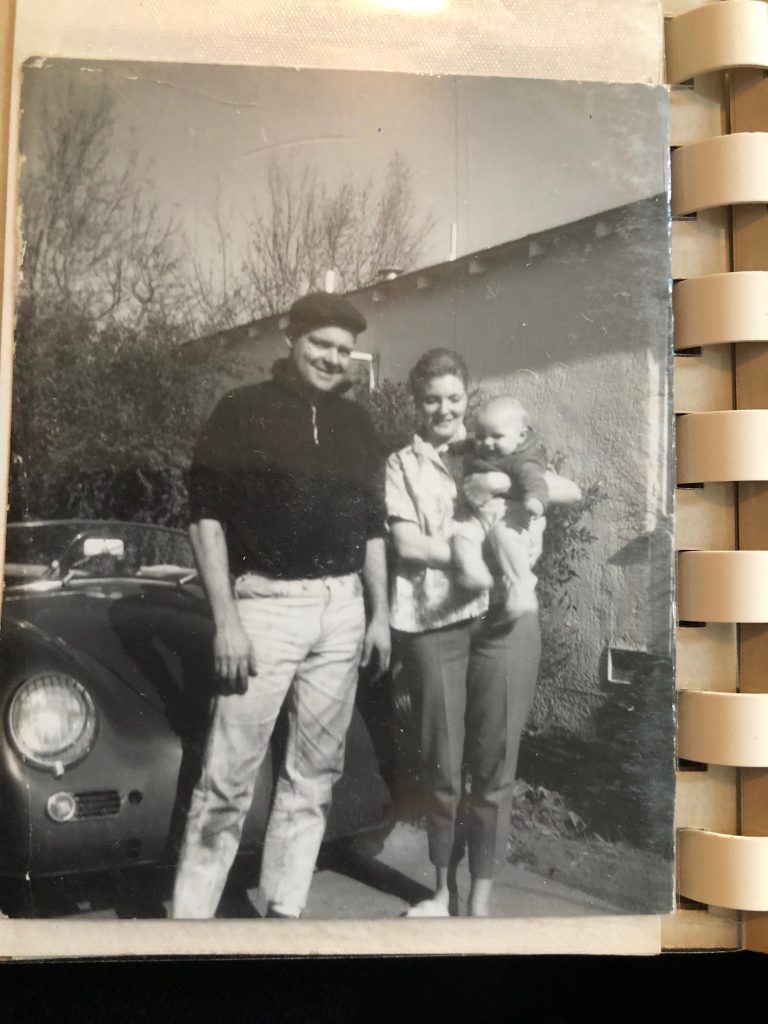 "Dad was always the most exciting driver on the track. He drove the piss out of every car. He was competitive in races even if he had a crappy car."
"I remember one night when Mom and I were at home, and Dad was out of town racing at the 1970 Trans-Am Donnybrook race. I was 7 years old at the time. And the phone rang. Mom answered. All of a sudden Mom started screaming and howling 'He won! He won! Oh my god $3500!!!! Oh my god!' Dad had so many fans. Sometimes after a win, the neighbors would put up signs on our house congratulating him. Many times, we would put a sheet up on the brick wall in the backyard in the evening as the sun went down, and all the neighbors would come over and we would watch Dad's race projected up onto the sheet with an 8mm film projector. Those were such good days for us."
Milt started out in virtual racing almost 20 years ago with a small group of friends using a PlayStation One controller. He and his friends eventually created a small league using a LAN with 8 or 9 computers hooked up. That's where he met Jim Ray for the first time. He said that he caused a major scene at Jim's first race with their group when Milt couldn't get his car into the pits, as Milt had been racing in systems which did not have pit stops for tires and fuel. He would have won that race, but for the pit stop issues. He and Jim parlayed their mutual love of racing into a close friendship.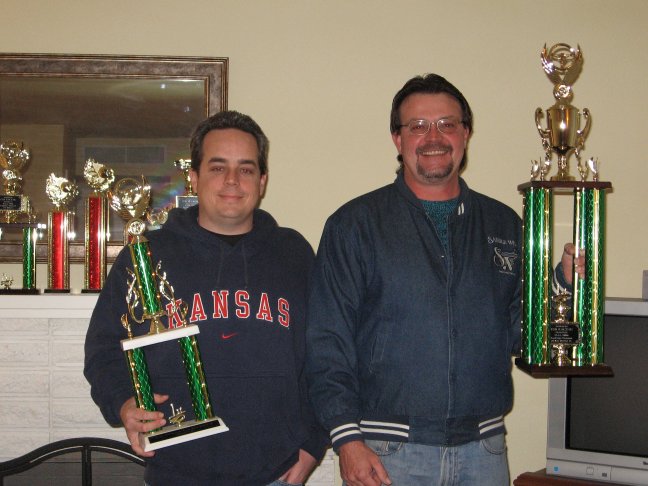 Milt has won well over 200 races in virtual racing, including 15 league championships in one of the very top leagues, FSB. He won these championships in NASCAR, GT, and IndyCar.
Milt races fairly sparingly these days in iracing for the Donkey Bop Racing Team, but despite running less than 20 races a year in recent years, he still has a lifetime record in iRacing of 44.84% top five finishes.
He has a very unique, innate talent for race driving. Put simply, he is a naturally gifted driver.
This record is amazing considering the very high quality of his driving in safety – for instance, he has had zero incident points over his last seven races – each of which was a major endurance and/or special event race. Not a single safety incident.
"The way I grew up in racing as a kid, I can't help but race the car as if it was a real car. Where people can get hurt. Where wrecking a car can be catastrophic to your family paying the rent that month."
What's even more remarkable is to have that record even though he is often teamed up with new drivers to mentor them in their first few team endurance events. Milt has a real gift of superb patience with and mentoring of newer drivers. He's calm on the race chat, and helpful, and keeps things fun. And then when he gets in the car for his stint, the newer driver watches a finely honed, very professional driver behind the wheel, who keeps his car out of trouble, runs solid lap after solid lap, and demonstrates powerful focus on the road. He shows newer drivers how to race by his own example.
"What I've learned spending most of my adult life with virtual racing is that this is about more than winning. I want Donkey Bop to give friendship and fun and something meaningful to our new drivers in their lives, like it has in my life. Now don't get me wrong, I am and always will be highly competitive. Don't get between me and a win on the track. I will move another car out of the way for a win if I need to. All that being said, racing transcends wins in being a positive influence in your life. I do really enjoy working with the new drivers and passing on what I've learned."
Asked to speak from the heart about Donkey Bop, and what it has meant to him, Milt said "Donkey Bop has given so much in the way of life lessons and it really helped me through some difficult times in my life. And it has provided my best friend and many close friends on our team that mean everything to me. I am so grateful for each and every driver on our team."