The True Story of Donkey Bop
There was a bar in Fresno, CA (USA) where one of the regular customers was a middle-aged Mexican named Jose. One day Jose asked the bartender if he knew the full name of the song about 'Donkey Bop' that he kept hearing on the jukebox.  The bartender was confused and told him he had no idea what song he was asking about, but promised to ask the person who serviced the jukebox the next time he came in if he had a song called 'Donkey Bop.' Once again he drew a blank, no one had head of the song.
Finally, one day Jose was in the bar when the song started playing. "This is it! This is it!" he told the bartender excitedly as he rushed over to the jukebox. When the song ended Jose watched where the mechanical arm replaced the disc. He saw the number where the disc had been placed was E11. He flipped through the menu of songs, and found that the name of the tune he knew as Donkey Bop was in fact 'Don't Give Up'.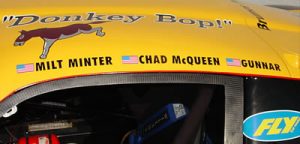 Learn more about our real world road racing hero Milt Minter below.  He is best known for his exploits in various Porsches in a career that spanned five decades. Minter drove in Can-Am, Trans-Am, IMSA, SCCA, Le Mans, historic races and even in the Baja 1000.