"Because memory is time folding back on itself. To remember is to disengage from the present. In order to reach any kind of success in automobile racing, a driver must never remember."
― Garth Stein, The Art of Racing in the Rain
October 3, 2020 @ iRacing.com
(Braselton, Georgia, USA)
International powerhouse Donkey Bop Racing fielded four cars in the recent iRacing special event "The Petit Le Mans 2020," a 10 hour endurance race. This race is a simulation of the real-world race, which uses the rules for the 24 hours of Le Mans established by the Automobile Club d'Oueste (AOC), slightly modified. The real-world race has been run for the last 20 years, with the record in driver wins held by Rinaldo Capello (IT) 5 wins, and Audi holding the record constructor wins with 9 garlands.
This is a tough multi-class race to survive. The car on car incident level was extremely high almost without exception at all levels of splits.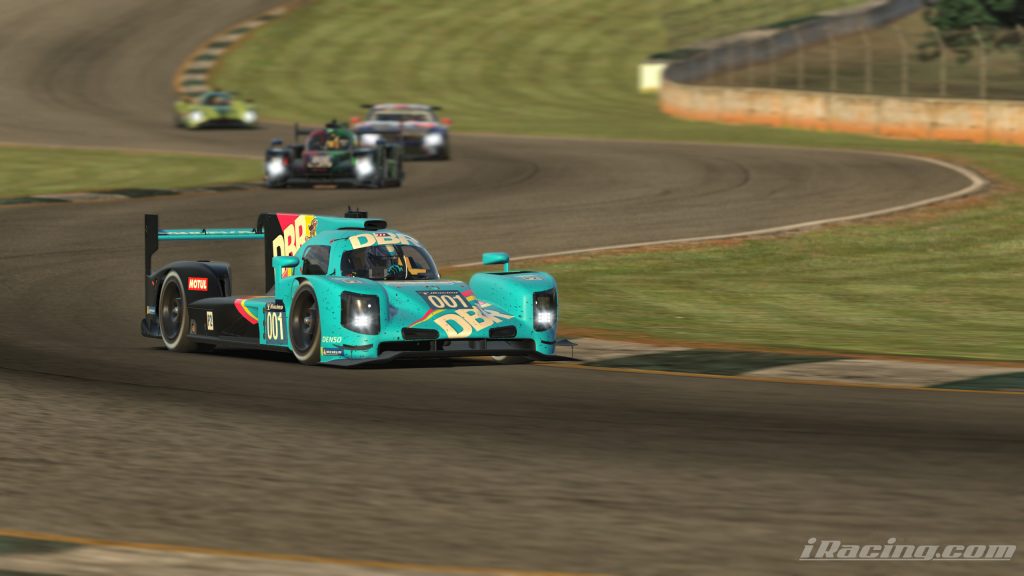 An exception to the rule was Donkey Bop's top entry in the #001 car, Stephen Jones (GB) and JF Godin (CAN) scored a very impressive top 5 in the fastest class – Le Mans Prototype 2 (Dallara P217).  Both ran a very clean fast race with Jones' fastest lap at 1:10.5.   The two drivers averaged only 4.7 safety incident points per hour, which was a spectacular result considering there were 44 drivers in two classes on a very short 2.5 track with few good passing zones. When asked about the high wreckage levels in this race, British driver Stephen Jones commented that it "was like being in a washing machine with a load of bricks." 
The #003 car had a very impressive day, again in an all LMP2 race, finishing a very respectable P19 out of 44 cars.  This crew, made up of Jerry Foehrkolb (US), Milt Minter Jr. (US), and Ken Soszka (US)  was particularly impressive in their clean driving, averaging only 3.9 incident points per hour overall.  Of special note was racing legend Milt Minter, Jr. who ran 122 laps with a grand total of only 4 incident points.  That, while running an average lap time in the 1:15s.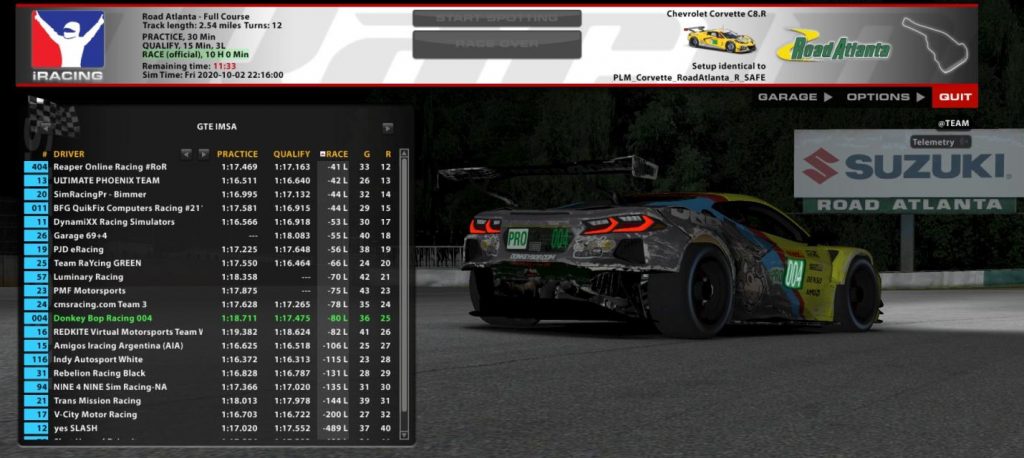 It was a tough day for the rest of the Donkey Bop entries with the #004 car, driven by Jim Ray (US) Larry Krupp (US), and Danny Falcon (US) finishing P12 out of 22. The #002 car, piloted by Matthew Maseko (CAN) and Cody Bahr (US) were in an all LMP2 race and finished in P29 out of 44 entries.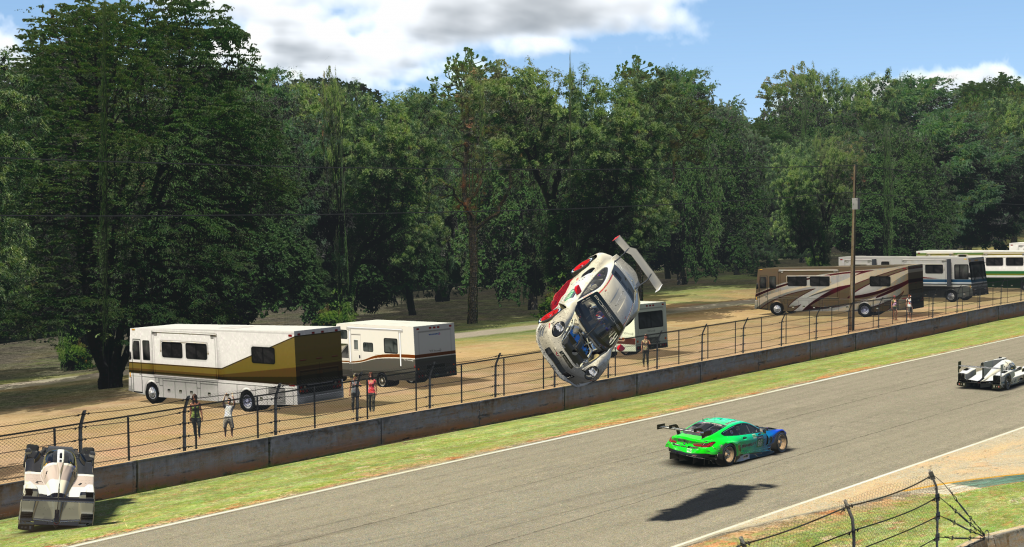 The #008 driven by Hal Kemrite (US), Kris Thompson (US), and Chet Barkin (US) finishing P16 out of 21 cars in class after getting wrecked hard several times during the race by LMP2s.
American driver Cody Bahr told reporters this was "the most dangerous track I've ever been on…..there were incidents we had to avoid on almost every lap, and eventually our luck ran out."
Minter stated it best during the race commenting that "Ken is trying to bring it home, but there is carnage all about."
The next race for the Donkeys is November 14th a charity endurance race – the 24 hours of Sebring, and we've already flushed this race out of our memory banks.