The FSB Endurance / BeelineSim Racing team had three Corvette C7 Prototypes in the same session for iRacing's 24 Hours of Daytona, thanks to the careful planning by team leader Jim Ray and a bit of luck when we registered. Team Car #001* came home with 9th place honors in the marathon event. Car #002 fought back from 55th after getting caught up in a lap 1 wreck to come in 23rd and Car #003 placed just outside the Top-10 in 13th. All three cars finished out the race and took the checkered flag.  OFFICIAL RESULTS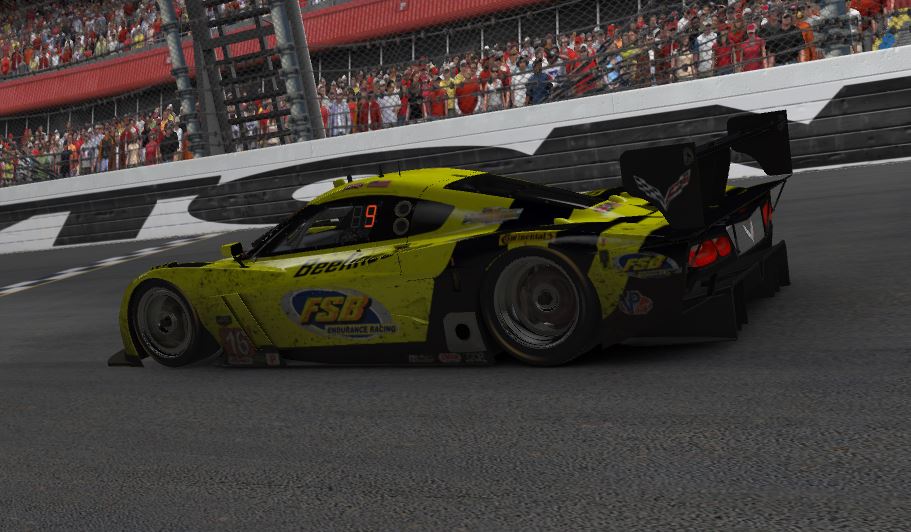 To say that there is a lot of great talent to join the team recently is an understatement.  Last October Steve Jones from iRacing's UK & I region and Jason Glaze from the Virginias both came on-board and helped take the #002 to a 13th place finish at iRacing's inaugural 24 Hours of Le Mans.  New to the team this year are Australia/NZ region's Dean Grogan and US drivers Todd Laribee, Zachery Robinson and Randall Sharrett. "These guys are all driving machines!" according to teammate Milt Minter, Jr.  Minter, the  son of the late IMSA driver Milt Minter who won the GT Class at the real 24 Hours of Daytona back in 1973, knows a thing or two about endurance racing, but says he still can learn a lot of good things from the new crew of drivers.  Shad Curren agrees, "I was able to learn a few things from watching Randall and Zach on track which helped me a lot during my stints."
As with any endurance event things can go awry and this one was no exception; multiple server disconnects, hardware failures, software glitches and of course many wrecks. With three cars in the running the team had their hands full for the duration. When not behind the wheel most drivers were working behind the scenes spotting, logging and contingency planning as circumstances changed throughout the race.  And change they did, starting immediately after the green flag dropped when Kenny Paul in the #003 caught the tire barrier inside turn-1, wrecking both him and the #002.
A portion of our race was streamed live on Saturday night courtesy of Pony Express Broadcasting: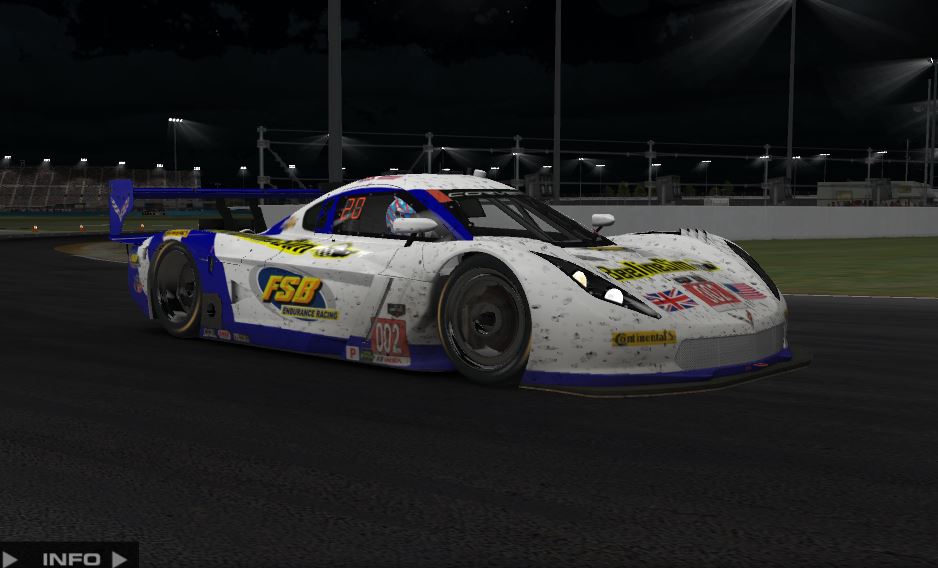 Three team cars started and 24 hours later all three finished the race, one of them with a Top-10. That's a pretty impressive accomplishment.
*Our #001 car was assigned the #16 by iRacing at this event due to a number conflict in our session.