DONKEY BOP RACING #001 WINS FROM THE POLE IN "THE ULTIMATE TEST"
THE IRACING 2020 24 HOURS OF LE MANS
"What is so important about driving faster than anyone else?"
"Racing is important to men who do it well. When you're racing….it's life. Anything that happens before or after…is just waiting.
This isn't just a thousand to one shot. This is a professional bloodsport. And it can happen to you. And then it can happen to you again.
Michael Delaney (Steve McQueen) in the movie, Le Mans (1971)
June 21, 2020
(Le Mans, France, EU)
The Donkey Bop Racing #001 entry scored a huge win from the pole position in dominating fashion in the LMP-1 class at the iRacing 2020 24 Hours of Le Mans. The winning team included top Donkey Bop Racing Team drivers Carlos Plaza (USA), Stephen Jones (GB), Cody Bahr (USA), and Mathew Maseko (CAN).
World-class Donkey Bop driver Carlos Plaza won pole running a blazing 3:20.714, over a half a second clear of the next closest competitor. From there the #001 raced on the front of the LMP pack, only dropping to P3 for a few laps, and ran 75% or 310 of the 407 total laps in the lead.
On very rare occasions during a career, a driver runs a perfect race. Carlos Plaza had such a race. After winning pole, Plaza set an amazing pace over the laps he drove, with an average lap time of 3.27.523 and a fastest lap of 3:20.924. What makes this performance even more stunning is the fact Plaza had zero incidents. None. Not even a single 1x. And another amazing fact is that Plaza was also the "ironman" on the team running 121 laps – nearly 7 hours of driving in a 24-hour period. The perfect race.
"Still can't believe we did it," said Plaza. "First off, Stephen, Matthew and Cody, you guys were awesome!! All Donkeys can say now they have won at Le Mans. If it wasn't for everyone's hard work, endless test sessions, saying try this or that on set ups, hey what do you think of this or that, this would have not been possible," said Plaza.
The other three drivers for the #001 car were right behind Plaza, each of them rendering truly outstanding performances. British driver Stephen Jones scorched the track with an averaged lap time of 3:30.273 and fastest lap of 3:22.007. American Cody Bahr was right on his heels with an average lap time 3:31.662 and fastest lap of 3:23.335. And Canadian Matthew Maseko rounded out the team with an average lap time of 3:32.173 and fastest lap of 3:24.112. Just brilliant driving by the entire #001 squad.
"It's good to have finally cracked the 24," said Englishman Stephen Jones. "We tried our best to beat ourselves up early at the beginning, but Carlos ran a fabulous race."
"I had prepared for this race for a solid month, practicing nearly every day and racing in the 6 hour (of Le Mans) a few weeks prior," said Bahr. "Even though not all Donkeys drove the car it really is an entire team effort, from the scheduling to the practices, all of it."
"Winning Le Mans! It's days later now and I still can't believe it really happened," said Maseko. "I hope Milt and Jim are proud of what's happened here because it would not be possible without them."
DONKEY BOP'S DEEP DRIVER ROSTER ON DISPLAY
Tim Principal Jim Ray flexed the muscles of the powerhouse Donkey Bop team showing off a large part of the DB driver roster by fielding four other cars, including one HPD ARC and three BMW M8 GTE's class, making the total DB participating driver count for this race an impressive 20 drivers running under the Donkey Bop flag at the year's most important race.
TWO OF THE FOUR OTHER DONKEY BOP CARS FINISH WELL IN MID-PACK
Donkey Bop #008 (affectionately known as "the Ocho")(Milt Minter, Jr. (US), Jim Ray (US), Larry Krupp (US), Tom Newman-Morris (AUS/NZ) Hal Kemrite (US), Daniel Falcon (US),Kris Thompson (US), Chet Barkin (US)) got off to a fantastic start thanks to two of the cleanest drivers in iRacing Milt Minter, Jr. and Hal Kemrite, moving up from P43 at the start to P26 after the first two stints. After the Donkey Bop #004 car had major damage early and withdrew, Ray switched Newman-Morris, Krupp, and Ray himself, from the #004 onto the #008 roster on the fly and plugged them into the rotation. The Ocho team ran a great race and was as high as P12 with 3 hours to go, and a top 10 finish in their gunsights when the dreaded internet monster reared its ugly head and caused the Ocho driver to lose connection and wreck the car on the Mulsanne Straight. Heartbreaking for the driver and the team. Nonetheless the team came back to a P25 finish, in the top half of the field.
The Donkey Bop #003 car (Jerry Foehrkolb (US), Ken Soszka (US), John Hall (GB), Jordan McGregor (US)) overcame early challenges to still finish well up in the mid-pack at P29. Hall, the Brit driver with the wicked sense of humor, summed up his drive on the last stint of the race. "I decided it would be a good idea to press them harder. And for reasons known only to iRacing, when I the sand trap the car accelerated into the wall like it was on an ice rink. I drove it 12 laps with wheel damage, in the vain hope that a lack of a meatball would save us. But no. 11 minutes damage, and 27th place lost forever. I brought it home in 29th……at least we beat the Frenchmen…"
The Donkey Bop Racing #002 HPD ARX piloted by Daniele Noventa (Dubai), JF Godin (CA) Jason Glaze (US) and Zachery Robinson (US) started very strong in their split. They maintained the overall top 5 for many hours. Then unexpectedly the motor blew near the halfway point, ending their chances at a better finish.
Milt Minter, Jr., who was one of the founding members of Donkey Bop alongside Jim Ray was so proud of the victory and became emotional when putting this race in perspective, "This has been a dream of ours. And y'all made it happened. That we have teammates that good blows me away…."
Perhaps the most profound comment about the Donkey Bop Racing team at Le Mans in 2020 was by Brit Stephen Jones, who during the race watching his teammates blow away the opposition exclaimed in his British accent "F—k we are fast!"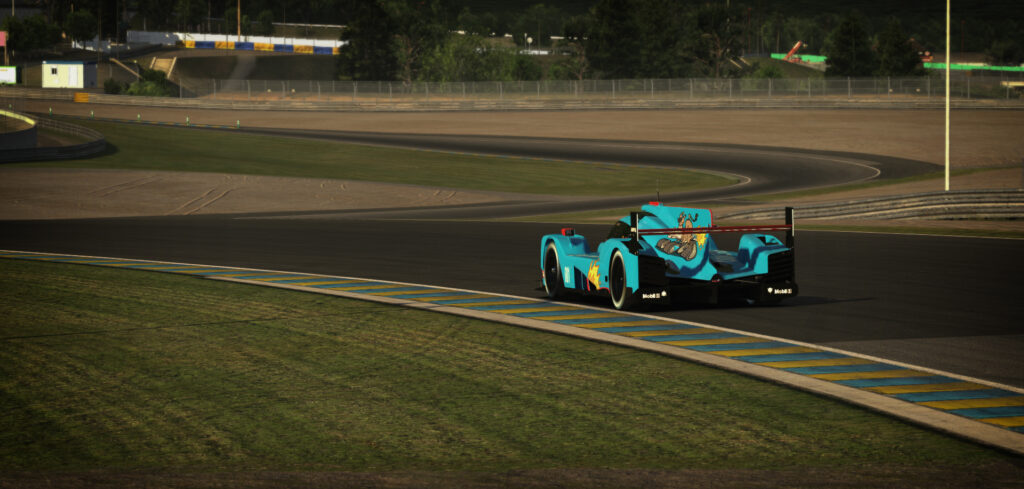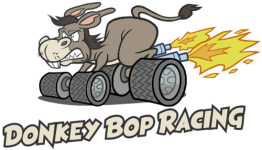 Kris Thompson 2020 DBR